Musician for Senior Living Entertainment in Southeastern Wisconsin
I don't just "sit there and perform" ... I make my show engaging, interesting, and educational too!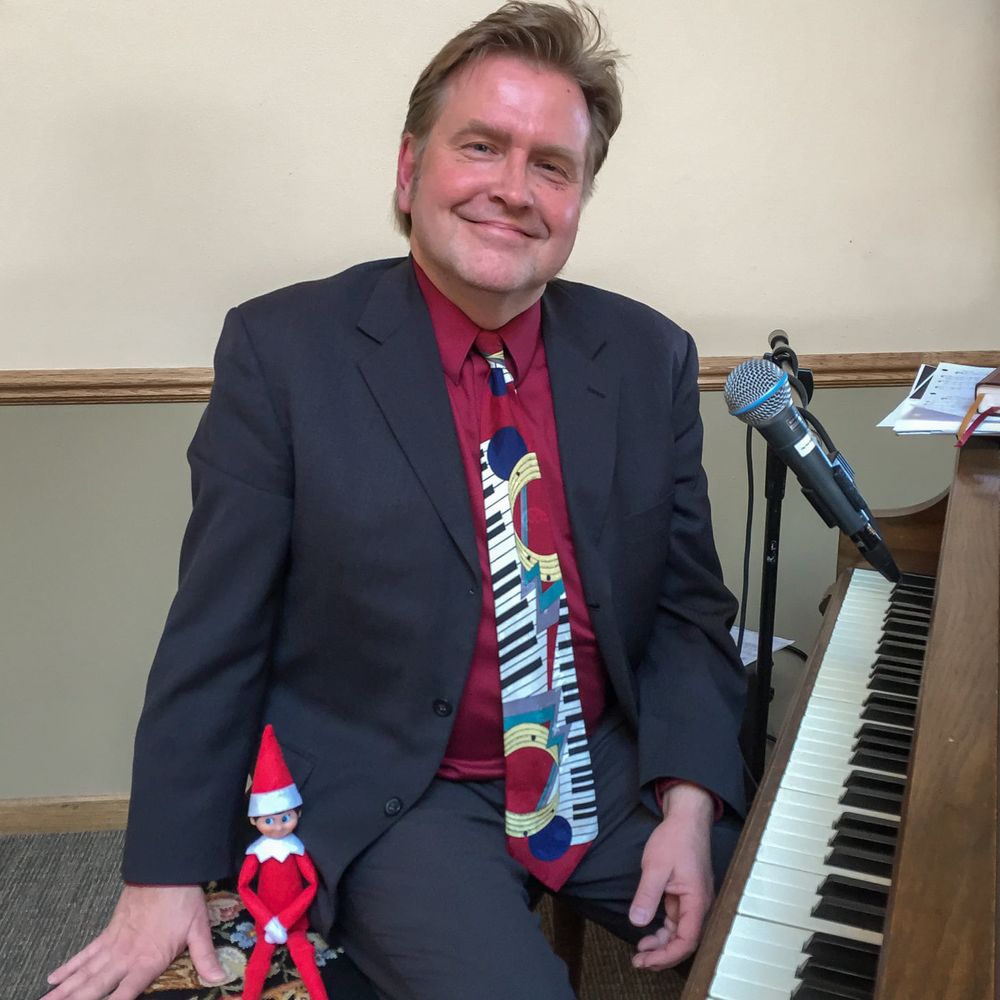 Hello Activity Director – Enrichment Life Coordinator – or whatever your title might be!
As a singing pianist in Greater Milwaukee, I've performed for more than 30 senior facilities since 2018. This includes performing music for Independent Living, Assisted Living, and Memory Care facilities throughout Southeastern Wisconsin.
For your residents, I present an hour of music for their enjoyment. I sing while I play my keyboard (or your piano/keyboard), and seniors really enjoy my friendly voice and personality. I make every effort to engage with your residents throughout my performance.
In other words, I don't just sit and perform ... I make it interesting and educational too!
My specialty is songs "on the lighter side," including traditional pop songs ... love songs ... and Broadway songs from the 1930s thru the 1970s. I also do a few sing-alongs including a hymn, provided that singing is permitted in your facility due to any current COVID restrictions.
I also perform patriotic music around Veterans Day and the Fourth of July, and I especially love the variety of songs during Christmas.
I bring my keyboard and small sound system, or I can use your piano there if you have one in decent shape and tuning. Read more below ... I'd love to perform music for your residents here in Wisconsin!
You may email me directly at jay.pianosinger@gmail.com.
JAY ISAACSON SENIOR LIVING MUSIC REVIEWS!
Jay is a gifted pianist, vocalist and performer. His kind personality and thoughtful, carefully selected song lists make him a favorite at both our Independent and Assisted Living facilities. I highly recommend Jay for any event!       
~ Kelly Herda, Director of Activities
The Elizabeth Residence – Bayside, Milwaukee, Wisconsin
Jay is a talented, respectful, and wonderful entertainer. Our residents enjoyed his broad array of music along with his intermittent banter and fun facts! It is clear that he shines on stage and he has the personality to go along with it. We will absolutely be having him back here!
~ Josie Garwood, Life Enrichment Services Coordinator
Regency Senior Communities, New Berlin, Wisconsin
Jay is a very talented musician and entertainer! He has performed in all three of our buildings, memory care, assisted & independent living and continues to keep our residents engaged.  
They love his music selection, piano playing and upbeat personality. We always look forward to having Jay perform in our community! 
~ Katie Sirus, Life Enrichment Director 
Harbour Village-  Greendale, Wisconsin 
I first contacted Jay this spring (2021) to inquire about a virtual show for a resident birthday party.  He was extremely prompt in his reply and very helpful.  We brainstormed together how to make a birthday party successful and enjoyable for all in attendance.  Jay has done a fabulous job with the two performances I've hired him for!
I can tell that a lot of thought and effort goes into his setup, playlist, and his show in general.  Jay does a perfect job balancing the tricky task of sharing musical information, chatting with attendees and playing songs during the gig.  The song list was a wonderful mix of tunes, and not the same ones you hear from other entertainers.  We are very excited to have Jay in-person at Layton Terrace, hopefully soon!
~ Kelly Suha, Lifestyle Coordinator
Layton Terrace Senior Community, Greenfield, Wisconsin
Jay was a true pleasure to work with. My residents loved him. When the show was over, I got so many happy comments about how much they enjoyed his music and how they can't wait until he comes back again.
Jay picked a great blend of songs for his show, so there was something for everyone, and his stage presence was perfectly engaging. There was no shortage of smiles, toe-tapping, and swaying from those who attended his performance. They would have listened to him play all day if given the chance! I would strongly recommend Jay to anyone who is looking to find good music.
~ Abby Jenks, Lifestyle Coordinator
Library Square Senior Community, West Allis, Wisconsin